Announcements
Subscribe to posts
These six short videos introduce different aspects of the water-energy-food nexus and how our communities are connected through it.
Prairie pothole consolidation has been occurring almost from the time the first farmers arrived. The concept is simple. Drain small nuisance wetlands into one large pothole to gain arable acres.
A major research component is to explore the agricultural potential of drained wetlands with an emphasis on improving nutrient uptake, thus reducing the nutrient load down-stream. This will include fertility management, residue management and novel cropping practices. The greater nutrient mineralization on the drained soil should allow Weiseth to grow crops with a reduced fertility prescription.
The residue management treatment will focus on shallow incorporation of trash into the soil to reduce contact between residue and snow runoff water. This should reduce the amount of soluble phosphorous flowing away in runoff.
The novel cropping treatment will look at the use of mixes of annual forages, including legumes. The reduced fertility requirement at seeding with legumes should reduce nutrient losses in the runoff water.
For more see the Western Producer
Come back to High Definition networking! #FSCONF20 Step away from the screen and come be seen! 
** Please complete AHS self-assessment prior to attending each day **  
Also available as a digital conference with ways to interact with speakers and digital participants Agenda Emcee Dianne Finstad is back! FSconf 2020 agenda We are working with Alberta Health Services (AHS) and Exhibition Park to ensure we follow safety protocols and recommendations. Click here to review the current AHS trade show guidelines  Book a booth…
Agriculture and Forestry has reached an agreement to transfer key research programs to the University of Alberta, strengthening its agriculture research capacity.
The University of Alberta will receive a $3.7-million grant to assist in the transition of critical agriculture research programs and researchers.
These researchers and programs now reside with the University of Alberta:
John Basarab, beef genomics and feed efficiency

Dr. Marcos Colazo, reproductive management in beef and dairy cattle

Valerie Carney, Poultry Innovation Project lead

Sheri Strydhorst, cereal agronomy
Alberta farmers and ranchers will continue to benefit from world-leading research that will now be housed at the University of Alberta. These researchers and programs, previously with Agriculture and Forestry, will continue to benefit the province's farmers and livestock producers under the current agreement.
Quick facts
Established in March, RDAR is a non-profit producer-led company that operates at arm's length from the Government of Alberta.
RDAR and the Government of Alberta recently reached a $37-million annual funding agreement.

RDAR determines and funds industry-wide research priorities to enhance producers' competitive advantage.
The University of Alberta is one of the world's top research universities, with expertise in both established and emerging fields including health, artificial intelligence, energy, food safety and security, and nanotechnology.
Agriculture and Forestry's field crop development centre will now be housed at Olds College, leveraging research capacity and creating new teaching opportunities.
An initial $10.5-million grant over three years will fund the program at Olds College. The college will take ownership of the program, providing it the capacity to support more world-leading research.
Alberta's barley breeding program has successfully developed and introduced several new varieties of barley to both domestic and international markets. Some examples include:
AB Advantage, AB Wrangler and AB Tofield, and a highly sought after (but yet unnamed) variety, which are for feeding domestic livestock

AB Lowe and AB Brewnet, which are now used for the growing craft brewing market
Quick facts
The Barley/Triticale Research Program comprises breeding, pathology and biotechnology activities in relation to barley and triticale.

Agriculture and Forestry has reached a memorandum of understanding (MOU) to transition its Barley/Triticale Research Program to Olds College.
Alberta's government is increasing research capacity by supporting the transition of the Alberta Irrigation Technology Centre (AITC) and the Brooks Greenhouse to Lethbridge College.
Details are currently being finalized for a $2-million agreement that will see the college manage the 200 acres and three pivots at the AITC. In addition, the Brooks Greenhouse will be transferred as part of its Centre for Applied Research, Innovation and Entrepreneurship (CARIE).  
Lethbridge College is hiring five staff to manage these facilities. By working with the college, the AITC and Brooks Greenhouse will be able to offer scientists the opportunity to conduct research at a scale Alberta farmers can then apply in the field.
Lethbridge College will operate the facilities as workspace for agriculture researchers from across the industry – post-secondary institutions, private industry and more.
The governments of Canada and Alberta are investing in critical animal health diagnostics at the University of Calgary's Faculty of Veterinary Medicine.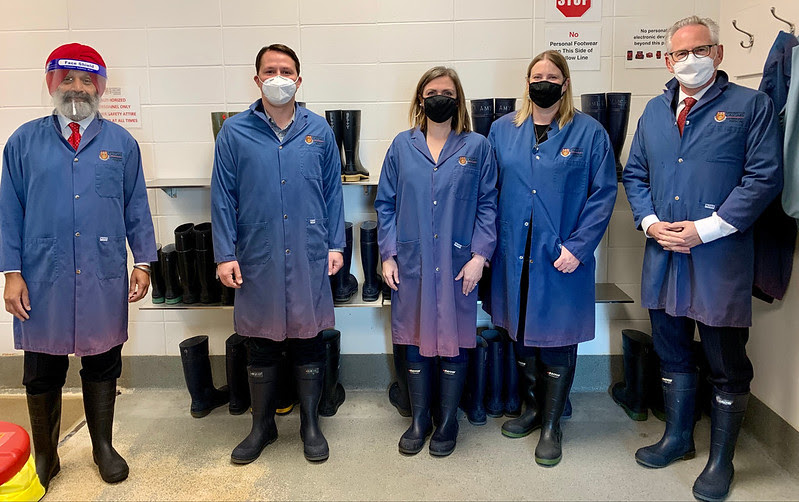 L-R: Dr. Baljit Singh, Minister Dreeshen, Jennifer Davies, Ashley Whitehead and Ed McCauley of the University of Calgary.
The $3.44-million agreements were finalized in March and will help the faculty launch a pilot project to expand its diagnostic service unit for animal disease diagnosis and welfare until February 2024.
This will create an animal disease and diagnosis welfare capacity at the university, which will provide diagnostic pathology, bacteriology and other testing services to the province's veterinarians.
The pilot project is a made-in-Alberta solution for quicker, more affordable results for vets and producers, and greater learning opportunities for the university's students.
This agreement is a part of the Alberta government's commitment to ensuring farmers and ranchers lead agriculture research priorities – not government. Establishing Results Driven Agriculture Research (RDAR), an arm's-length non-profit corporation, is a first step in making sure research funding priorities are producer-led. Over the long term, RDAR will assume ongoing responsibility for the funding agreement with the University of Calgary.
Under this new model, agricultural research in Alberta will lead to tangible benefits for farmers, including higher profits, a more abundant food supply at lower cost for Albertans and ultimately a higher quality of life in rural communities
Crop yields are estimated to hit a new record high in Alberta with farmers harvesting more than seven per cent above what is normal. 
Livestock market sales are estimated to also reach a new record high of $6.9 billion.
The food processing sector in the province is also expected to hit a new record with products totaling $14.8 billion. 
Quick facts
Alberta accounts for more than 21 per cent of all Canadian goods exported internationally.

Alberta's agri-food sector is an important part of the Alberta economy, contributing $9.2 billion in gross domestic product (GDP) and employing more than 77,000 Albertans.

With sales of $15.8 billion in 2019, food and beverage manufacturing was the second largest manufacturing industry in Alberta (20.8 per cent of provincial manufacturing sales) after petroleum and coal product manufacturing. It is the largest manufacturing employer in the province, employing 28,000 Albertans.